Concrete Power Washing in Raleigh
Raleigh Concrete Pressure Washing and Brightening
Your concrete surfaces take a real beating throughout the year. Between the weather, the kids, the pets, the cars, and all the other various traffic they get, horizontal surfaces can get incredibly stained and dirty after a year of hard use. Due to the porous surface, this dirt and debris is easily caked in and can get even more caked in with repeated pressure and exposure, as comes with a car parking in the same spot or a basketball hoop left in the same area. In order to give your concrete that brand-new look, our expert staff uses advanced concrete pressure washing technology and cleaning detergents that will give your concrete a fresh, new look.
Premier Property Services' Concrete Power Washing Process
At Premier, we believe that our customers deserve the absolute best in any of our projects, be they window cleaning, gutter repair, exterior home repair, or pressure washing. Therefore, our concrete pressure washing and brightening service is a 4-step process, custom-engineered to guarantee that your concrete looks brand-new. The 4 steps of our unique process are:
Presoak solution applied to safely kill and remove mold, mildew, and algae prior to pressure washing
Pressure Washing of the entire surface with a specialty machine to achieve a deep clean and even appearance
High volume, low-pressure final rinse to remove all uplifted debris from the freshly cleaned surface
A final application of concrete brightener to whiten concrete as it dries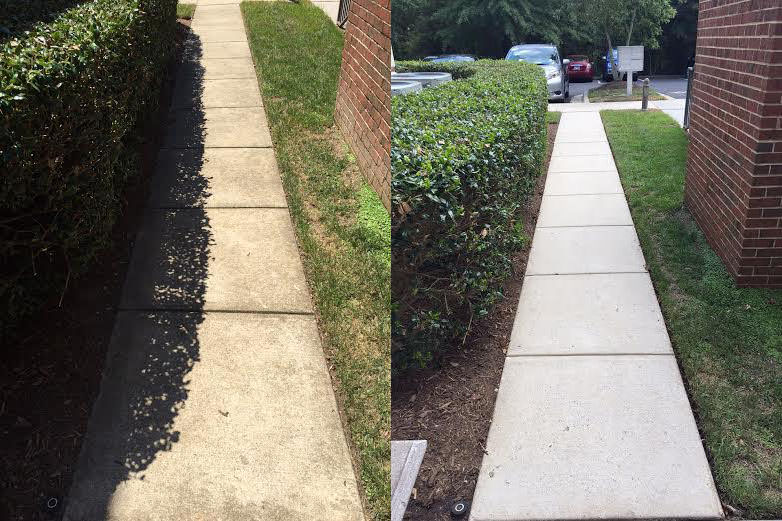 Contact Raleigh's Best Concrete Pressure Washing Company
If your concrete is looking much the worse for wear, it might be time to get concrete pressure washing services. Since your concrete is often one of the first things people notice when they come to your home or business, a key part of your first impression is concrete so clean it nearly sparkles. If you want to have a great first impression with your guests or clients, contact us today at 919-645-8530 or online to see what a difference we can make!
We would love to hear from you! Please fill out this form and we will get back to you shortly.
Thank you for the excellent job your company did cleaning my roof, house, and driveway! I am recommending your services to my mom for her house. May God Bless You & Your Business!
Yvette Steward
Raleigh NC